A quote for our time: "Nothing is more essential to the establishment of manners in a State than that all persons employed in places of power and trust be men of unexceptionable character. The public cannot be too curious concerning the character of public men." – Samuel Adams, 1775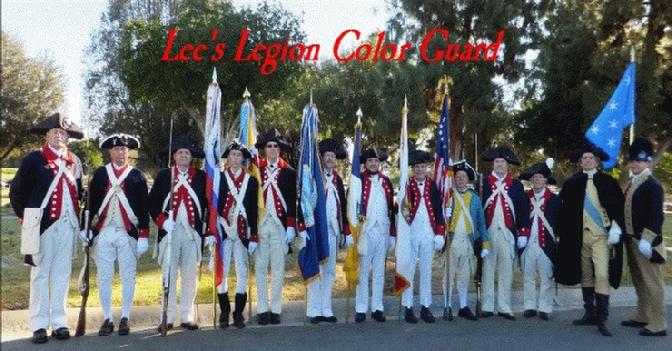 L to R; Lee's Legion Color Guard Commander Jim Fosdyck, Brian Merrell, Dan Henry, Luke Merrell, John Ferris, Kent Gregory, John Dodd, Jim Olds, Karl Jacobs, Dan McKelvie, Jim Blauer, General George Washington (portrayed by Dan Shippey) and James Gill.
If you would like the Lee's Legion Color Guard to participate in your event, please contact Jim Fosdyck, Color Guard Commander, at
jfosdyck@sbcglobal.net

.
The Orange County Chapter is a 501(c)(3) Nonprofit Organization, EIN #95-6142222
Contact Webmaster

Updated:

February 08, 2016